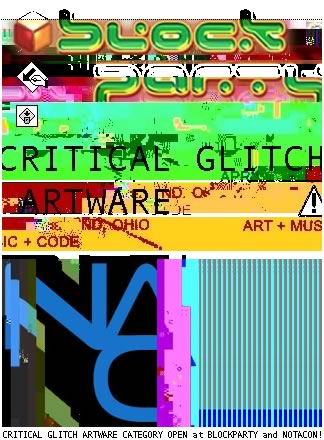 The criticalartware crew invites you to participate in the

CRITICAL GLITCH ARTWARE CATEGORY at BLOCKPARTY and NOTACON 2010!

Hosting the ARTWARE CATEGORY at BLOCKPARTY and NOTACON 2010, we invite submissions of Critical Glitch Artware to be exhibited and experienced in the context of the largest running North American demoparty! The ARTWARE CATEGORY will feature experimental works of Noise && New Media Art; Realtime Audio-Video Performances; Art Mods and Art Games as well as a Glitch Art screening program curated by Nick Briz!
The CRITICAL GLITCH ARTWARE CATEGORY opens on Friday April 16th. Entries to the CRITICAL GLITCH ARTWARE CATEGORY should be sent to criticalartware by

DEADLINE: Tuesday April 13th 2010.
CONTACT us to SUBMIT your PROJECTS to the
CRITICAL GLITCH ARTWARE CATEGORY:



criticalartware AT gmail DOT com


ABOUT THE ORGANIZERS
The criticalartware crew won first place in the 'Artware' category at BLOCKPARTY 2008 and revealed their secret source codes at BLOCKPARTY and NOTACON 2009. BLOCKPARTY and NOTACON 2010 mark the first public opening of the ARTWARE CATEGORY as organized by criticalartware. The criticalartware crew has participated in and organized Artware events internationally in Chicago, Mexico City, Helsinki, San Francisco, Vienna, Bejing and Aarhus:
The criticalartware crew is currently constituted by jonCates, Jake Elliott, Tamas Kemenczy and Mark Beasley.
Nick Briz curates Glitch Art and exhibits his own work internationally at festivals such as the Images Festival in Toronto, the Chicago Underground Film Festival, the FILE Media Arts Festival in Rio, Brazil and the Sidney Underground Film Festival:
ABOUT THE EVENT
Blockparty is the largest running North American demoparty. Founded in 2007 by Jason Scott and Christian "RaD Man" Wirth, it has partnered with Notacon in Cleveland, Ohio:
Notacon (pronounced "not-a-con") is an art and technology conference which takes place annually in Cleveland, Ohio:
http://www.notacon.org

* btw, the webflier above for the CRITICAL GLITCH ARTWARE CATEGORY was made possible in part by the Satromizer by Ben Syverson. Jon Satrom (on whom the Satromizer is based) + Ben Syverson (the artware developer who created the Satromizer) are founding members of previous versions of criticalartware.

criticalartware is
an artware demo crew
from chicago.
criticalartware was
a media art hystories
research & development lab.